Description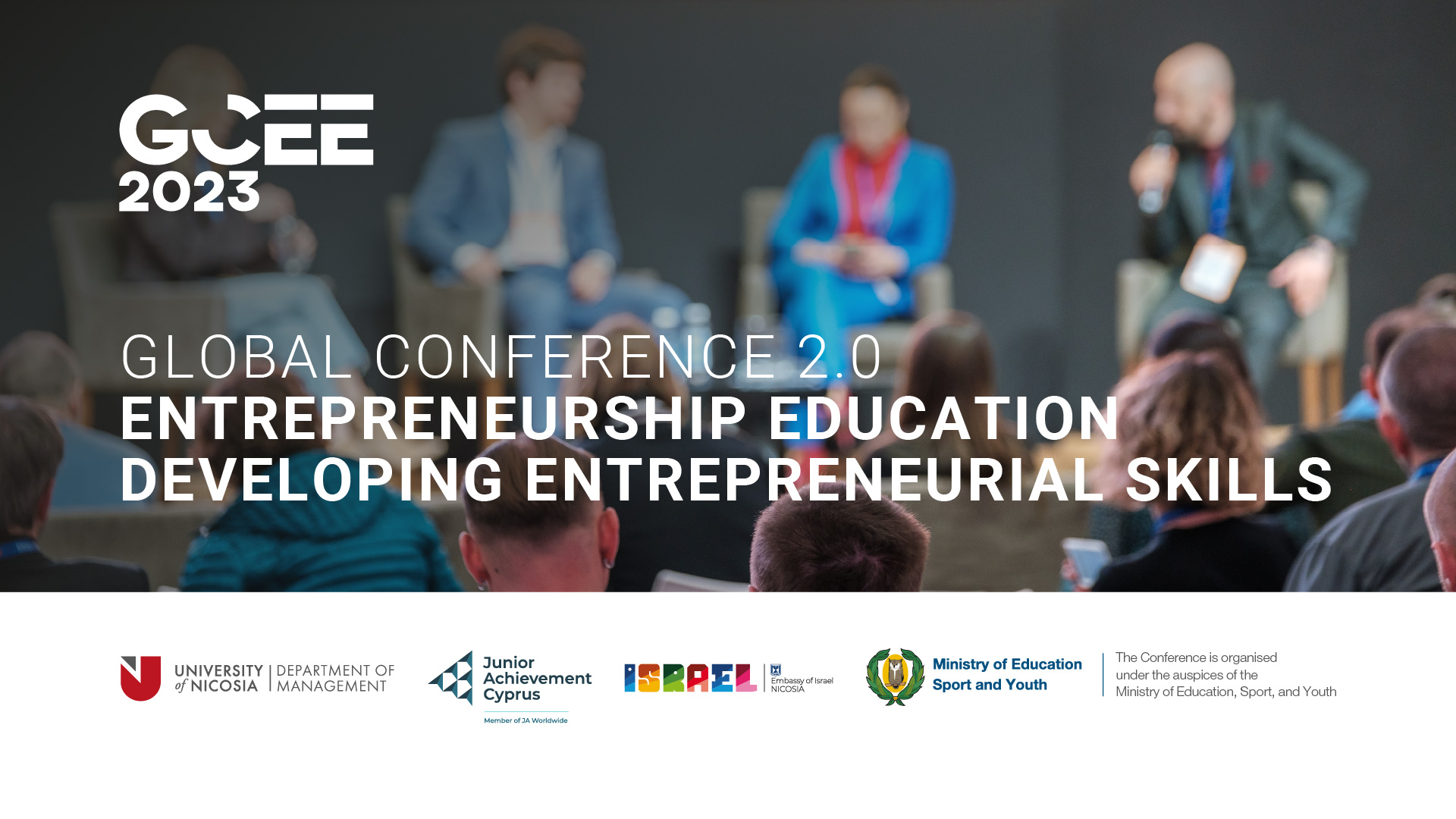 GCEE2023 – Global Conference 2.0
Entrepreneurship Education – Developing entrepreneurial skills
Date: 13th of October 2023 | 08:00 – 14:00
Venue: University of Nicosia, UNESCO Amphitheater, Nicosia, Cyprus
Organized by: Management Department, University of Nicosia, and Junior Achievement Cyprus
The conference is organized under the auspices of the Ministry of Education, Sports, and Youth
Entrepreneurship education has attracted interest and excitement in recent decades as it appears to lead to economic growth, job creation, and easier adjustment to society, while at the same time improving personal development, engagement with school, and equity. Entrepreneurship is a dynamic process of creation, change, and vision. It involves the processes of development, creativity, and innovation. It requires energy and passion to implement innovative ideas and creative solutions, which cause improvement in working and living conditions.
Entrepreneurship is more than just a financial and business term. Through entrepreneurship, equal opportunities for advancement are provided to all, while the entrepreneurial lifestyle can be developed in individuals, in their pursuit of a successful career and life. Based on research, which states that it can be taught, entrepreneurship has been introduced at all levels of education, driven by market needs, and adapted to the educational curricula of the states.
What are the scientific theories that frame entrepreneurship education? What are the current trends and challenges in entrepreneurship education? How can it be applied to the case of each tier? What are the entrepreneurial skills that can be developed? All these questions will be answered at Global Conference in Entrepreneurship Education 2.0.
The Global Conference in Entrepreneurship Education 2.0 is the 2nd of a series of conferences that will be organized yearly in Cyprus. GCEE aims to be the leading conference of the University of Nicosia and Junior Achievement Cyprus.
GCEE will provide an opportunity for academics, educators, scientists, professional entrepreneurs, and students to present their work, exchange ideas, and network for future collaborations in Entrepreneurship Education. The conference will serve as a facilitator to add value to the global dialogue on promoting and advancing Entrepreneurship Education.
Distinguished scholars in the field of entrepreneurship education will present research and practices around the subjects of entrepreneurship education. Specifically, Dr Alexandros Kakouris from the University of Peloponnese and the Hellenic Open University, Mr Omri Azulay from the Deal Marketplace and Jerusalem College of Engineering, Professor Despo Ktoridou from the University of Nicosia and Dr Stelios Yiatros and Mrs Antonia Christou from the Cyprus University of Technology.

Conference Agenda
GCEE2023 – Global Conference 2.0 – Entrepreneurship Education – Developing entrepreneurial skills
Date: 13th of October 2023 | 08:00 – 14:00
Venue: University of Nicosia, UNESCO Amphitheater, Nicosia, Cyprus
Organized by: Management Department, University of Nicosia, and Junior Achievement Cyprus
Registration Form
Registration Form
Organised by: Management Department, University of Nicosia, and Junior Achievement Cyprus
The conference is organized under the auspices of the Ministry of Education, Sports, and Youth
Please fill-in the below form to confirm your participation in the Conference.
Date: 13th of October 2023 | 08:00 – 14:00
Venue: University of Nicosia, UNESCO Amphitheater, Nicosia, Cyprus