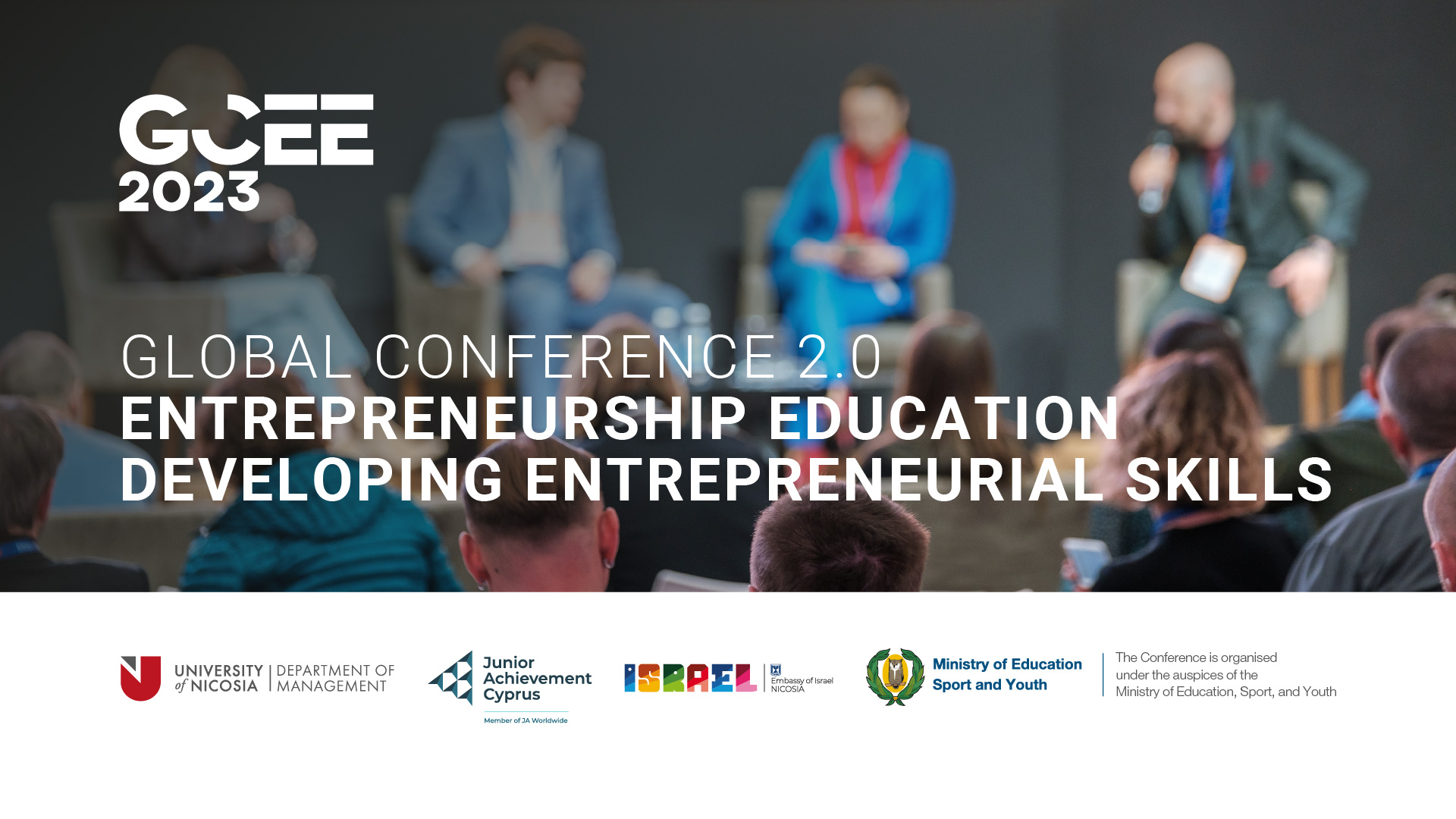 GLOBAL CONFERENCE in ENTREPRENEURSHIP EDUCATION 2.0 | DEVELOPMENT OF ENTREPRENEURIAL SKILLS
PRESS RELEASE
 GLOBAL CONFERENCE in ENTREPRENEURSHIP EDUCATION 2.0
DEVELOPMENT OF ENTREPRENEURIAL SKILLS
PROMINENT ACADEMICS IN CYPRUS
For the second consecutive year, the University of Nicosia and Junior Achievement Cyprus are co-organising the Global Conference on Entrepreneurship Education, themed 'Development of Entrepreneurial Skills'. The conference will take place on October 13, 2023, from 8:00 to 14:00, at the University of Nicosia's Unesco Amphitheatre.  It is supported by the Embassy of Israel and is under the auspices of the Ministry of Education, Sports and Youth.
As 2023 is designated from the European Commission, the Year of Skills, this year's conference focuses on the development of entrepreneurial skills. Over the past few decades, entrepreneurship education has gained significant interest and enthusiasm due to its potential to stimulate economic growth, job creation, societal adaptation, personal development, and the enhancement of interpersonal relationships and equality within educational settings.
To register, please visit: https://jacyprus.org/en/events/#tab-id-4
Entrepreneurship is inherently dynamic, encompassing creation, change, and visionary thinking. It involves processes of development, creativity, and innovation, demanding both energy and passion to implement innovative ideas and creative solutions that enhance working and living conditions.
Entrepreneurship offers equal opportunities for advancement to all individuals and can be nurtured as a lifestyle choice for those seeking successful careers and lives. Based on research that affirms its teachability, entrepreneurship has been incorporated into educational curricula at all levels, adapting to market needs and national educational frameworks.
The Global Conference on Entrepreneurship Education 2.0 will explore the scientific theories underpinning entrepreneurship education, current trends, and challenges, and its application its application and implementation at different educational levels. Participants will gain insights into developing their entrepreneurial skills through engaging discussions and presentations.
Distinguished experts in entrepreneurship education will share their research and practices at the conference. Our esteemed speakers include:
Dr. Alexandros Kakouris, Assistant Professor of Business Learning and Education at the Department of Management Science and Technology, University of Peloponnese, and the Hellenic Open University, Mr. Omri Azulay, engineer and technology entrepreneur, CEO and Founder of Deal Marketplace, Dr. Stylianos Yiatros Mrs. Antonia Christou from the Cyprus University of Technology and Professor Despo Ktoridou, Head of the Department of Management at the University of Nicosia in Cyprus.
The conference will be conducted in English. Attendees will receive certificates of attendance.
Junior Achievement Cyprus is a member of the global nonprofit organization JA Worldwide and specializes in entrepreneurship, financial literacy, and work readiness. For more information, please visit our website at www.jacyprus.org.
https://jacyprus.org/wp-content/uploads/2023/09/P20975-Facebook-Event-Cover.jpg
1080
1920
jacyprus
https://jacyprus.org/wp-content/uploads/2022/06/ja-cyprus-white-logo22.png
jacyprus
2023-09-20 12:45:25
2023-09-20 12:51:14
GLOBAL CONFERENCE in ENTREPRENEURSHIP EDUCATION 2.0 | DEVELOPMENT OF ENTREPRENEURIAL SKILLS