Nutrica+» won the title of «JA Company of the Year 2022
The Finale and Awards Ceremony of the Junior Achievement Cyprus (JA Cyprus) Company Programme 2022 was held with great success for the 9th consecutive year on Friday, May 6, 2022.
In a room full of young business minds, ten student groups competed in an effort to secure the title "Company of Year 2022 ". The competition was the culmination of the efforts of 400 students, aged 15-18, who created their own student company during the school year. The ten finalists – from the 50 student companies that were created, presented their innovative business ideas in public in front of a specialized jury committee.  The jury consisted of Evgenios Evgeniou – Board Member of JA Cyprus, Konstantina Logotheti – PwC Cyprus, Nikolas Mastrogiannopoulos – Chief Scientist for Research and Innovation, Dimitra Onoufriou – Astrobank, Xenia Xenofontos – Digital Tree and Michalis – ECOMMBX.
This year the title of " JA Company of the Year" went to "Nutrica+", a student company from Agios Georgios Lakatamias Lyceum. The company, with the help of their teacher Anna Maria Pavlou and their mentor Kyriakos Siakallis from the Office of the Environment Commissioner, produces two innovative products: food supplement for pets and plant compost, using egg shells that contain a high amount of calcium.
The second place was taken by the student company JAMICS, from the International School of Paphos. The team has created an app, a smart box of pills designed to tackle the problem of forgetting to take your medication at the right time with the right dose. The team was supported by their professor Mr. Antonis Yiannouros and their mentor Mrs. Kiki Kalli from the Cardet Organization.
Sneaklean, a student company from the Olympion High School, took the third place by creating an environmentally friendly shoe cleaning kit. The aim is to facilitate the process of cleaning shoes, saving a lot of time, energy and money. The team was supported by their teacher Mrs. Maria Eftychiou and their mentor Mrs. Kristia Ioannou from MetLife.
In addition to the main title "Company of the Year 2022" and the 1st and 2nd runner up awards, student companies also received other special awards for their achievements in key areas of business and entrepreneurship.
The winners of the Special Signature Awards were:
Best Stand Awards – Nutrica+ (Agiou Georgiou Lakatamias Lyceum) and SPARKIDz (Pascal Private English School Nicosia)
Best Logo Award – Olivae (Pascal Private English School Limassol)
Community Impact Award – Solarsol (Emporiki Scholi Mitsi Lemythou)
Best Branding and Digital Communication Award– Simgi (Foley's School)
Best Selling Award – SPARKIDz (Pascal Private English School Nicosia)
Best Company Report Award – Nutrica+ (Agiou Georgiou Lakatamias Lyceum)
Phoenix Award – Inferno (Pascal English School Larnaka)
Best Commercial Video Award – ParkingTek (Forum School)
Most Innovative Award – JAMICS (International School of Paphos)
Leadership Award – Daniel Tyokov – Cobaltcup (Aspire Private British School)
The event was greeted by the Honorable Minister of Education, Culture, Sport and Youth, Mr. Prodromos Prodromou, and was attended by prominent people from the business world.
Nutrica+ will represent Cyprus in the European JA Competition that will be held in July 2022 in Estonia.
JA Cyprus is supported by:
Strategic Sponsor: PwC Cyprus
Partner: Astrobank
Supporters: University of Nicosia, Research and Innovation Foundation
Institutional Partner: Ministry of Education, Culture, Sports and Youth
JA Cyprus (www.jacyprus.org) is a member of Junior Achievement Worldwide, a global non-profit organization specialised in youth entrepreneurship education that aims at equipping young people with entrepreneurial, financial literacy and employability skills.
For more information visit the JA Cyprus website (www.jacyprus.org) or contact Emily Sotiriou via email at emily.sotiriou@jacyprus.org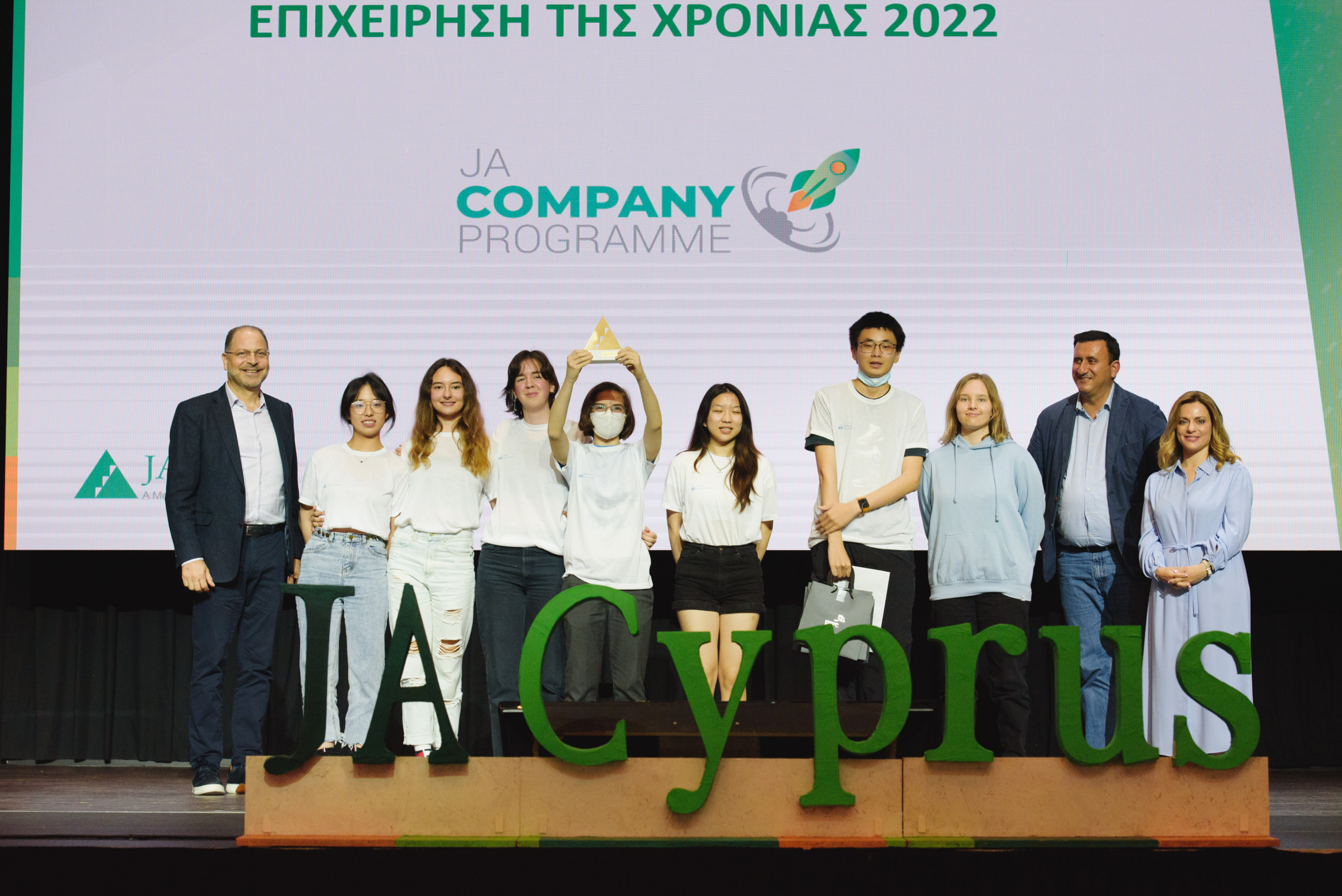 https://jacyprus.org/wp-content/uploads/2022/05/06-May22_2998-JA-Finals-2-scaled.jpg
1709
2560
jacyprus
https://jacyprus.org/wp-content/uploads/2022/06/ja-cyprus-white-logo22.png
jacyprus
2022-05-10 10:50:37
2022-05-10 10:55:04
Nutrica+» won the title of «JA Company of the Year 2022