INSPIRING THE YOUTH OF TODAY TO CREATE A WORLD FULL OF POSSIBILITIES
JA Cyprus is a member of JA Worldwide, the world's largest non-profit organisation dedicated to educating students on entrepreneurship, work readiness and financial literacy skills through experiential, hands-on programmes.
1400
+
MENTORS & TEACHERS ENGAGED
Read Our Annual Report 2020-2021
Teachers are at the heart of Junior Achievement.
Why bring JA into your class?
Do you want to be a Doctor? Engineer? Business Person? Gain skills that can be used in any career! Our programmes are open to anyone, not only students interested in business.
JA volunteers are local business leaders who share their experiences and knowledge with students in a structured curriculum. Are you ready for this rewarding challenge?
No one needs to tell you that JA programmes are beneficial because you know first-hand! Now we'd like to re-connect so you can help us reach the next generation of JA students.
Our partners directly support programmes that nurture the entrepreneurial spirit, create a workforce ready for today's business challenges, and teach vital financial-literacy skills. You can be a part of it. Join us in giving young people the opportunity to change their lives and transform their communities.
Creativity and innovation in science and entrepreneurship are…
https://jacyprus.org/wp-content/uploads/2022/05/01.-JA-StartUp-Finale-Invitation-pdf.jpg
957
928
jacyprus
https://jacyprus.org/wp-content/uploads/2022/01/logojacyprus.png
jacyprus
2022-05-23 16:20:38
2022-05-23 19:44:54
JA StartUp 2022 Finals and Awards Ceremony
The Finale and Awards Ceremony of the Junior Achievement Cyprus…
https://jacyprus.org/wp-content/uploads/2022/05/06-May22_2998-JA-Finals-2-scaled.jpg
1709
2560
jacyprus
https://jacyprus.org/wp-content/uploads/2022/01/logojacyprus.png
jacyprus
2022-05-10 10:50:37
2022-05-10 10:55:04
Nutrica+» won the title of «JA Company of the Year 2022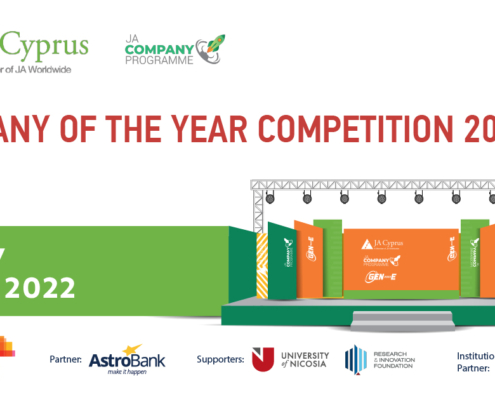 You are kindly invited to the final competition and the award…
https://jacyprus.org/wp-content/uploads/2022/05/JA-2022-company-of-the-year-Facebook-Post-ENG.jpg
630
1200
jacyprus
https://jacyprus.org/wp-content/uploads/2022/01/logojacyprus.png
jacyprus
2022-05-04 11:45:09
2022-05-04 11:45:09
JA CYPRUS COMPANY OF THE YEAR COMPETITION 2022 FINALE & AWARD CEREMONY
Challenges around cancer need to be addressed comprehensively.…
https://jacyprus.org/wp-content/uploads/2022/04/BDD-Invitation_SM.png
1080
1080
jacyprus
https://jacyprus.org/wp-content/uploads/2022/01/logojacyprus.png
jacyprus
2022-04-27 09:27:16
2022-04-27 09:27:16
Six Student Teams Present Their Innovative Ideas Meeting the Challenges in the Field of Cancer
JA Cyprus and ExxonMobil Cyprus are pleased to announce the implementation…
https://jacyprus.org/wp-content/uploads/2022/04/National-SCI-TEC-CHALLENGE-2022-Photo-Book-25-×-20-cm-2.png
1600
2000
jacyprus
https://jacyprus.org/wp-content/uploads/2022/01/logojacyprus.png
jacyprus
2022-04-21 09:41:32
2022-04-21 09:41:32
Sci-Tech Challenge in Cyprus: The opportunities in STEM domains for the new generation
On April 2nd & 3rd, the 9th Company Programme Trade Fair…
https://jacyprus.org/wp-content/uploads/2022/04/National-SCI-TEC-CHALLENGE-2022-Photo-Book-25-×-20-cm-1.png
1600
2000
jacyprus
https://jacyprus.org/wp-content/uploads/2022/01/logojacyprus.png
jacyprus
2022-04-11 09:12:42
2022-04-11 09:12:42
Over 400 student entrepreneurs took part at the 9th Company Programme Trade Fair organized by Junior Achievement Cyprus
Junior Achievement Cyprus announces the organization of the 9th…
https://jacyprus.org/wp-content/uploads/2022/03/P20311-Mall-of-Cyprus-TV-Graphic-V1.jpg
900
1600
jacyprus
https://jacyprus.org/wp-content/uploads/2022/01/logojacyprus.png
jacyprus
2022-03-23 16:57:14
2022-03-23 17:31:54
9th Junior Achievement Cyprus Student Company Trade Fair
Europe needs more people who can tackle challenges - people with…
https://jacyprus.org/wp-content/uploads/2022/02/Untitled-design-49.png
924
1640
jacyprus
https://jacyprus.org/wp-content/uploads/2022/01/logojacyprus.png
jacyprus
2022-03-02 17:46:47
2022-03-02 18:19:35
Students propose solutions to reduce the plastic use and promote the sustainability of the environment
"They listened carefully to my business idea, found it interesting…
https://jacyprus.org/wp-content/uploads/2022/02/273938655_1039839120078389_2388965833354893080_n.jpg
563
750
jacyprus
https://jacyprus.org/wp-content/uploads/2022/01/logojacyprus.png
jacyprus
2022-02-25 09:45:49
2022-02-25 16:21:13
Entrepreneurship in Preparatory Apprenticeship School