Two awards for Cyprus at the GEN-E European Entrepreneurship Festival
With the "Novartis Digital Health Innovation Award" for our team "Diligens" and the "JA Alumni Leadership Award" for Nefeli Andreou of "NutriCa+" the Cypriot mission was honored at the European Entrepreneurship Competition GEN-E, held in July 12-14 2022 in Tallinn, Estonia.
Gen-E is the largest Entrepreneurship festival in Europe, a celebration of the entrepreneurship and achievements of European youth. Thousands of European students, aged 15 and over, present their innovative business ideas online and live. The Gen-E Festival combines two annual European entrepreneurship competitions for JA Company and JA StartUp programmes winners from 41 countries, bringing together national winners from 41 countries.
Cyprus participated in the competitions with this year's winners of the Company programme "Nutrica+" and the winners of the StartUp programme "Kolokasi Delicacies". "Nutrica+" is a student company from the Lyceum of Agios Georgios Lakatamia where, with the help of their teacher Mr. Anna Maria Pavlou and their mentor Mr. Kyriakos Siakallis from the Office of the Environment Commissioner, produces two innovative products: a nutritional supplement for pets and a plant compost, using eggshells which contain a high amount of calcium.
"Kolokasi Delicacies" team aims at offering tasty and nutritious food choices based on Kolokasi that is grown in Cyprus. Their target group is mostly vegetarians, vegans, and diabetics, who have limited options. The product line consists of chips, nuggets and bites and will expand with a multi-purpose Kolokasi flour. The University of Cyprus team was supported by their professor Dr. Daina Nikolaou and their mentor Mr. Marios Kolokasidis.
Nefeli Andreou, from the "NutriCa+" team, was honored with the "Alumni Leadership Award". The award is given to individuals, who demonstrate outstanding leadership skills and who influence their team throughout the JA programme. These leaders are role models, motivated, team oriented and have developed through the JA programme. The winners of the Alumni Leadership Award exemplify young leaders with remarkable leadership skills.
The "Diligens" team traveled to Estonia as a prize for the "Novartis Digital Health Innovation Award". The award is designed to honor innovative digital solutions in response to the most pressing citizen and patient health challenges of our time. The team had the unique opportunity to meet representatives of major companies in the health and technology sectors and to promote their idea.
Teams "CiPen" and "Coalfee", winning teams of past JA Cyprus competitions, having been deprived of their prize due to the pandemic, also took part in the delegation.
Our youth had the unique opportunity initially to participate in such a large event with 800+ participants from all over Europe, to exchange knowledge and experiences with people of their age, to broaden their horizons, to face new challenges and of course to find remarkable opportunities.
The Organization expresses its thanks to the partners of the programmes, PwC Cyprus, Astrobank, Novartis Cyprus, Asbis, University of Nicosia, and Research and Innovation Foundation.
JA Cyprus (www.jacyprus.org) is a member of Junior Achievement Worldwide, the world's largest non-profit organization specializing in youth entrepreneurship education aimed at empowering them with entrepreneurial, financial education and employability skills.
For more information you can visit our website www.jacyprus.org.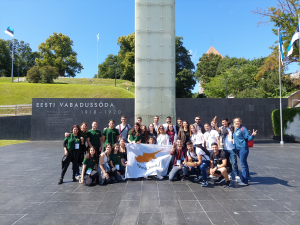 https://jacyprus.org/wp-content/uploads/2022/07/20220714_231510-scaled.jpg
1920
2560
jacyprus
https://jacyprus.org/wp-content/uploads/2022/06/ja-cyprus-white-logo22.png
jacyprus
2022-07-22 10:59:56
2022-07-22 17:57:55
Two awards for Cyprus at the GEN-E European Entrepreneurship Festival