On Thursday, 30 April, the 2015 Company of the Year Competition Finale and Award Ceremony, organized by Junior Achievement Cyprus, took place with great success at the Filoxenia Conference Centre, Nicosia. The event was attended by more than 450 people, including the Minister of Education and Culture, representatives from the public and business sector, academic community and mass media, as well as school teachers and students.
Springers, a mini-company composed of students from the American Academy Larnaca, were appointed "Company of the Year" 2015, while the mini-companies Magic Beans World and Wallblox, created by students from the Paralimni Lyceum, were pronounced First and Second Runner-Up.
Apart from the main awards, student-entrepreneurs were offered special signature awards for their excellence in vital areas of entrepreneurial activities. Awards for the most innovative product/service, the best branding and communication strategy, the best-selling product/service and higher potential for value creation, are some of the awards that were offered to JA Cyprus' highly-talented students.
The event included interesting keynote speeches by entrepreneur, Ms. Tasoula Hadjitofi, and JA Cyprus alumnus, Ms. Olivia Georgiou, as well as an on-stage interview with the winners of the 2014 Company of the Year Competition.
The Minister of Education and Culture, Dr. Costas Kadis, stressed that a culture favouring innovation and entrepreneurship needs to be strongly facilitated by our educational system, while simultaneously commending the students' ability to transform new ideas into actuality through their spontaneity, curiosity, creativity and imagination.
The Chairman of Junior Achievement Cyprus, Mr. Andreas Papadopoulos, highlighted that through recognized European programmes, JA Cyprus bridges the gap between academia and the real business world and, as a result, young people acquire critical knowledge and skills required by contemporary employers.  Citing figures, Mr. Papadopoulos noted that this year 32 student companies were created, 26 of which achieved real sales amounting to nearly €30,000.
The winners of the 2015 Company of the Year Competition are:
"COMPANY OF THE YEAR 2015": SPRINGERS (American Academy of Larnaca)
Panagiotis Georgiou, Konstantinos Kapetanos, Dimitris Michael, Kyriacos Petrou, Zenonas Santis & Panayiotis Stavrinou
Their idea to produce organic, mosquito repelling products with no added chemicals ensured Springers the win!
"COMPANY OF THE YEAR 2015" – 1st Runner-Up: MAGIC BEANS WORLD (Lyceum of Paralimni)
George Artimatas, Ioannis Loizou, Panayiota Lussandrou, Tichomir Novakof, Maria Economou, Andreas Papageorgiou, Anastasios Roussos, Chrystalla Savvidi & Emilios Chatziliasis
Focusing on modern people's quest for entertainment, the First Runner-Up team offers a series of games based on "magic beans", which Magic Beans World package and sell! There are no words to describe their entrepreneurial idea…
"COMPANY OF THE YEAR 2015" – 2nd Runner-Up: WΑLLBLOX (Lyceum of Paralimni)
Michaela Vasiliou, Thomaida Gavriel, Georgia Theiakou, Stavros Kyriakoudis, Irini Holland & Sophia Chrysostomou
They promised to make our daily life more interesting, creative and colourful, and save us from the monotony of blank walls, while providing us with an affordable product given the current financial situation. How?! With the aid of blox cubes that consumers can use to create images, shapes, letters, numbers and symbols to decorate the walls of their residence, school or company.
MOST INNOVATIVE PRODUCT/SERVICE AWARD: BIO TECHNICAL SYSTEMS NICOSIA LTD (Β' Nicosia Technical School)
Ntani Ammouri, Andreas Antoniou, Elenos Georgiou, Lavina Ginga, Μikaella Demetriou, George Theophanous, Kyriacos Kalaitzakis, Gabriel Kosmin, Georgiana Loungou, Panayiotis Mani, Anna Mbaranska, Panayiotis Neophytou, George Panayiotou & Katerina Skordou
Bio Technical Systems Nicosia Ltd was established with the aim of promoting recycling through designing and creating innovative customized waste segregation and waste management units. Therefore, the FATAOLA DU101 unit was created to achieve a practical, easy, financially affordable and mainly, environmentally friendly waste segregation system.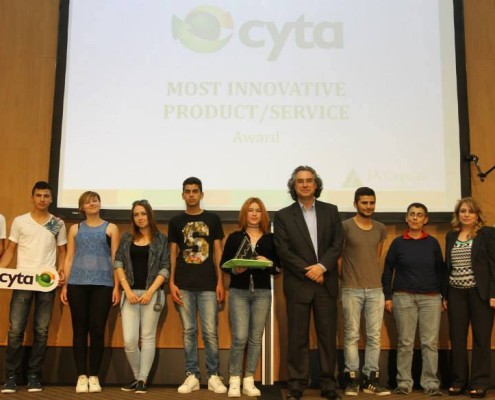 MOST POTENTIAL VALUE CREATION PRODUCT/SERVICE AWARD: WEEKFLIP (American Academy of Larnaca)
Myria Gregoriou, Stylianos Kakouris, Georgia Michaelidou, George Motitis & Sara Popovidou
WEEKFLIP has promised to help us achieve more effective time management. To achieve this, they introduced to the market a diary/planner that can be connected to both our mobile and tablet device with the aid of a special application.
BEST BRANDING & COMMUNICATION AWARD: SWEET POPS (The Senior School)
Ioanna Gregoriou, Nicolas Efraim, Socratis Nicolaou, Stephan Charalambous, Andreas Chatzipavlis & Christos Christoforou
Sweet Pops managed to sweeten our taste buds with delicious and visually attractive cake pops, which we were tempted to taste through the effective use of traditional promotional practices and the optimum utilization of social media and the company website.
BEST LOGO AWARD: FIT FOOD COMPANY (A' Nicosia Technical School)
Larissa Angelescou, Ioanna Angelescou, Christian Attala, Andreas Demetriou & Raphael Constantinou
One truffle a day keeps the doctor away! Five students from Α' Nicosia Technical School aspire to provide us with a healthy and tasty treat by offering us delicious yet healthy truffles…
BEST EXHIBITION STAND AWARD: CYCLIC (Polemidia Lyceum)
Maria Andreou, Maria Antoniouυ, Maria Panayiotou, Noura Petrides & Salomi Chatzimilti
By modernizing elements of Cypriot tradition and culture, CYCLIC uses recyclable raw materials to create hand-made, practical and financially affordable presents featuring unique and original designs. Notebooks, coasters, cups and cards, inspired from embroidery from Lefkara, are created by students.
BEST-SELLING PRODUCT/SERVICE AWARD: BE MAGNIFICENT (B' Limassol Technical School)
Ioanna Athanasiou, Georgia Evripidou, Maria Evripidou, Kyriacos Ioannou, Melina Ioannou, Anastasia Kolia, Andriana Patti, Giorgos Tsiapparis & Nafsika Philippou
With the aim of developing a pioneering product for the hairdressing sector, "BE MAGNIFICENT" decided to prepare and promote a digital DVD guide entitled "Safety and Health – Hairdresser Environment". Company sales exploded…
BEST COMPANY REPORT AWARD: MAGIC BEANS WORLD (Lyceum of Paralimni)
George Artimatas, Ioannis Loizou, Panayiota Lussandrou, Tichomir Novakof, Maria Economou, Andreas Papageorgiou, Anastasios Roussos, Chrystalla Savvidi & Emilios Chatziliasis
COMMUNITY IMPACT AWARD: WEBLAND SOCIETY (Xenion School)
Christos Vrionides, Andrian Demetriou, Zefkas George, Maria Ioannou, Maria Kappai, Panayiotis Kafkarou, Marios Kyriacou, Nicos Moustakas & Andreas Spanashis
Compelled by their love for their hometown, 9 students created Webland Society to promote the area of Famagusta as a tourist destination…
COMMUNITY IMPACT AWARD: POLISINFO (Lyceum & Technical School of Polis Chrysochous)
Themis Georgiou, Panayiota Georgiou, Stavroula Theologou, Elli Clavari, Stelios Michael, George Nathanael, Marios Neophytou, Georgia Odysseos, Savvas Stylianou & Ioanna Chimarridi
PolisInfo aspires to help tourists explore the area of Polis Chrysochous by providing them free information through a specialized mobile application.
BEST "DISASTER" STORY AWARD: CHALK IT (Agios Georgios Lyceum Lakatamia)
Antonia Aristokleous, Maria Kokkinou, Constantinos Patsias & Eleni Selipa
With the aim of coping with children's tendency to paint on walls, Chalk it created a wall paint that can transform every surface into a blackboard for chalk or marker pens. A solution that can satisfy both children and adults!
https://jacyprus.org/wp-content/uploads/2015/05/JA.jpeg
378
595
jacyprus
https://jacyprus.org/wp-content/uploads/2017/03/JA-Logowhite300.png
jacyprus
2015-06-25 10:32:10
2015-06-25 14:05:15
COMPANY OF THE YEAR 2015: THE BIG WINNERS