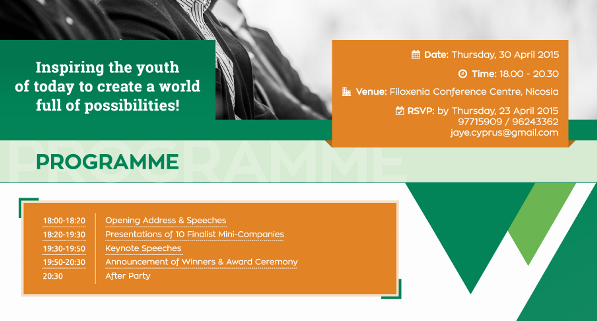 Filoxenia Conference Centre, Nicosia
Thursday, 30 April 2015, 18.00 – 20.30
On Thursday, 30 April 2015, Junior Achievement Cyprus is organizing the 2015 Company of the Year Competition Finale and Award Ceremony, which will take place from 18:00-20:30 at Filoxenia Conference Centre, Nicosia. The event will be open to anyone interested in discovering the entrepreneurial spirit and creativity of talented Cypriot youth. The Finale and Award Ceremony is the culmination of the efforts of over 200 students, aged 15-18, who created and ran their own company for the last seven months.
During this special event, 10 finalists – out of 32 student companies created under the 2015 Company Programme – will pitch their entrepreneurial ideas to a panel of judges in an attempt to secure the title of "Company of the Year". The winning team will travel to Berlin, Germany, to represent Cyprus at the European Competition of JA-YE that will be held from 28 to 31 July.
Apart from the main title of "Company of the Year", the First and Second Runner-Up Awards, student-entrepreneurs will be offered special signature awards for their excellence in vital areas of entrepreneurial activities. Awards for the most innovative product/service, the best branding and communication strategy, the best-selling product/service and higher potential for value creation, are some of the special awards that will be offered to JA Cyprus' highly-talented students. The event will also include interesting keynote speeches by entrepreneur Ms. Tasoula Hatdjitofi and JA Cyprus alumnus Ms. Olivia Georgiou.
The event will be transmitted through live streaming via JA Cyprus' website and is kindly offered by Cyta.
JA Cyprus is supported by: 
Strategic Partner:             Piraeus Bank Cyprus
Partners:                             Cyta and MetLife Alico
Academic Partner:           University of Nicosia
Supporter:                          MS Jacovides
Institutional Partner:      Ministry of Education and Culture
Join us for the Finale and Award Ceremony to see our finalist student-entrepreneurs in action and celebrate their success!
For more information, please contact:
| | | | |
| --- | --- | --- | --- |
| JA Cyprus | Eloiza Savvidou | +357 99352441 | jaye.cyprus@gmail.com |
| University of Nicosia | Evi Dekoulou | +357 96243362 | dekoulou.e@unic.ac.cy |
https://jacyprus.org/wp-content/uploads/2015/04/Invitation_EN_RESIZED.png
843
597
jacyprus
https://jacyprus.org/wp-content/uploads/2017/03/JA-Logowhite300.png
jacyprus
2015-04-24 10:31:00
2015-05-06 05:31:10
JA CYPRUS 2015 COMPANY OF THE YEAR COMPETITION: FINALE & AWARD CEREMONY